YUKI TAKAGI SOLO EXHIBITION  "In a place where there are no ghosts"
2021.07.02 – 2021.07.18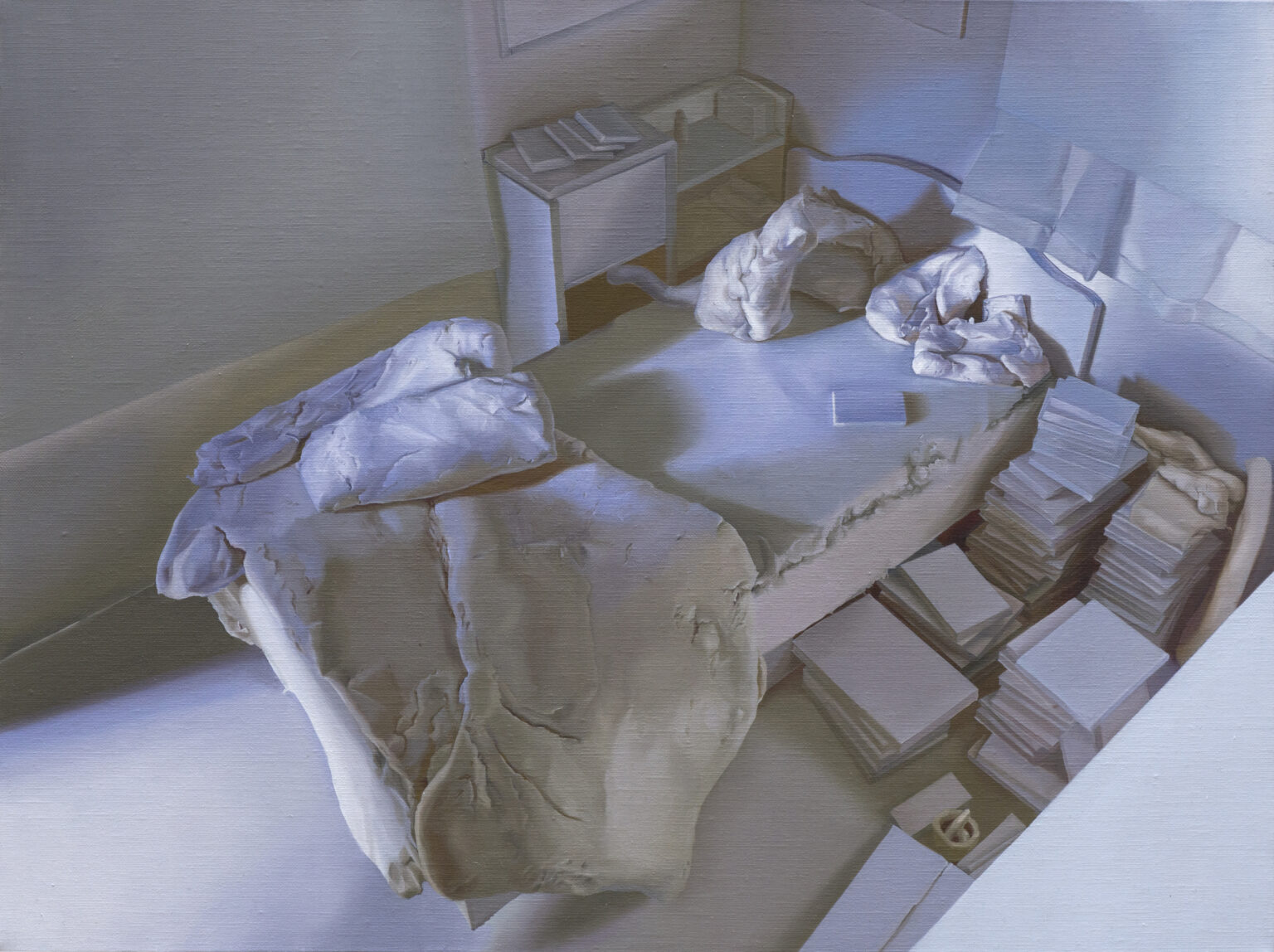 ARTDYNE is pleased to announce the opening of a solo exhibition by Yuki Takagi, entitled "Where There Are No Trees", from 2 July to 18 July 2021.
Yuki Takagi graduated from Tokyo University of the Arts this spring with a major in oil painting, and is currently studying for a master's degree in Fine Arts at Tokyo University of the Arts, focusing on the flatness and temporality of painting and exploring its possibilities.
A room that is real but somehow strange and unnatural. The puffiness of the pillows, the wrinkles of the sheets, the stacked books, the pots and pans on the stove. These are the motifs of the miniature rooms and furniture that the artists have made themselves out of styrene board and paper mache. Even the hand marks on the paper mache are carefully depicted, giving the paintings a unique humid atmosphere that gives the viewer the strange sensation that someone has been there before. Takagi's interest in horror films and ghost stories has led him to focus on the memory of people who, after reading or watching a scary story, continue to feel a sense of foreboding and fear of something that does not exist, even though they know it is a work of fiction. By suggesting "what should have been" on canvas, the artist attempts to evoke the unsettling and unstable feelings that lie in the background of everyday life. In addition, the process of "painting one's own work" brings to the work a multilayered meaning of depicting (imitating) an imitation (which automatically reminds us of Thomas Demand's work) and raises fundamental questions about the making of a painting.
In this exhibition, we will show and sell about 10 of his new works. We hope that you will take this opportunity to see and learn more about his work.
Please note that the exhibition period may be subject to change depending on the spread of the new coronavirus. Please check our gallery website and SNS for the latest information. Thank you very much for your support.
Biography
Yuki Takagi
Biography
1994
Born in Fukushima Prefecture
2021
Graduated from Tokyo University of the Arts, majoring in oil painting
Currently enrolled in the master's course at Tokyo University of the Arts, Graduate School of Fine Arts and Music
Solo Exhibitions
2020
"Ano hi no Sumika" MEDEL GALLERY SHU, Tokyo
Group exhibition
2020
"Spring Show for 3331 Art Fair 2020" ARTDYNE, Tokyo
2019
"Overwritten Landscape" MEDEL GALLERY SHU, Tokyo
Opening Exhibition of Kumi Oguro and Yuki Takagi, ARTDYNE, Tokyo
2018
"Tokyo Independent", Chinretsu-kan Gallery, Tokyo National University of Fine Arts and Music, TokyoIs it good to boil? /gallery i, Tokyo, Japan
-Artist Statement
I have a memory that I don't know if it's a dream or reality. I was very young at the time, and my parents and sister shared a bedroom with me, and every day we slept on futons laid out side by side in the Japanese-style room. I think we were all in the futon that day. In the middle of the night, I woke up suddenly. As I looked around in my flustered head, I realized that none of my family members were there. It was dark in the bedroom where I had turned on the bean-bulb, but instead I could see the light on through the polished glass that separated the bedroom from the kitchen. I wonder if everyone is awake, and when I listen I hear a small noise, like a whisper or the sound of the television. It sounded more like a monologue than a conversation. As I listened to the noise, for some reason I had the feeling that there was no one else in the house but me. And at the same time, I also felt that there was nothingness in the room with the light on.
There is nothing. Being left alone in a dark room was very frightening for me as a young child.
I called for help, but no one came. That wasn't what I was afraid of. I was afraid that if I spoke out, the 'nothing' in the other room would notice me. They would know that I was the only one in the house. That's what I was afraid of. In fact, my father might have been at the end of the light. Maybe he was watching a late night mail order TV show. Or maybe my mother was reading a book to put my sister to sleep when she woke up…. But I couldn't go and check.
This memory must have happened in a dream. But the whispers I heard that day still echo in my sleep.
Yuki Takagi