Spring show
2020.03.18 – 2020.03.29
Kumi OGURO / Ryotaro KATO / Lily SHU / Hikaru NARITA / Yuki TAKAGI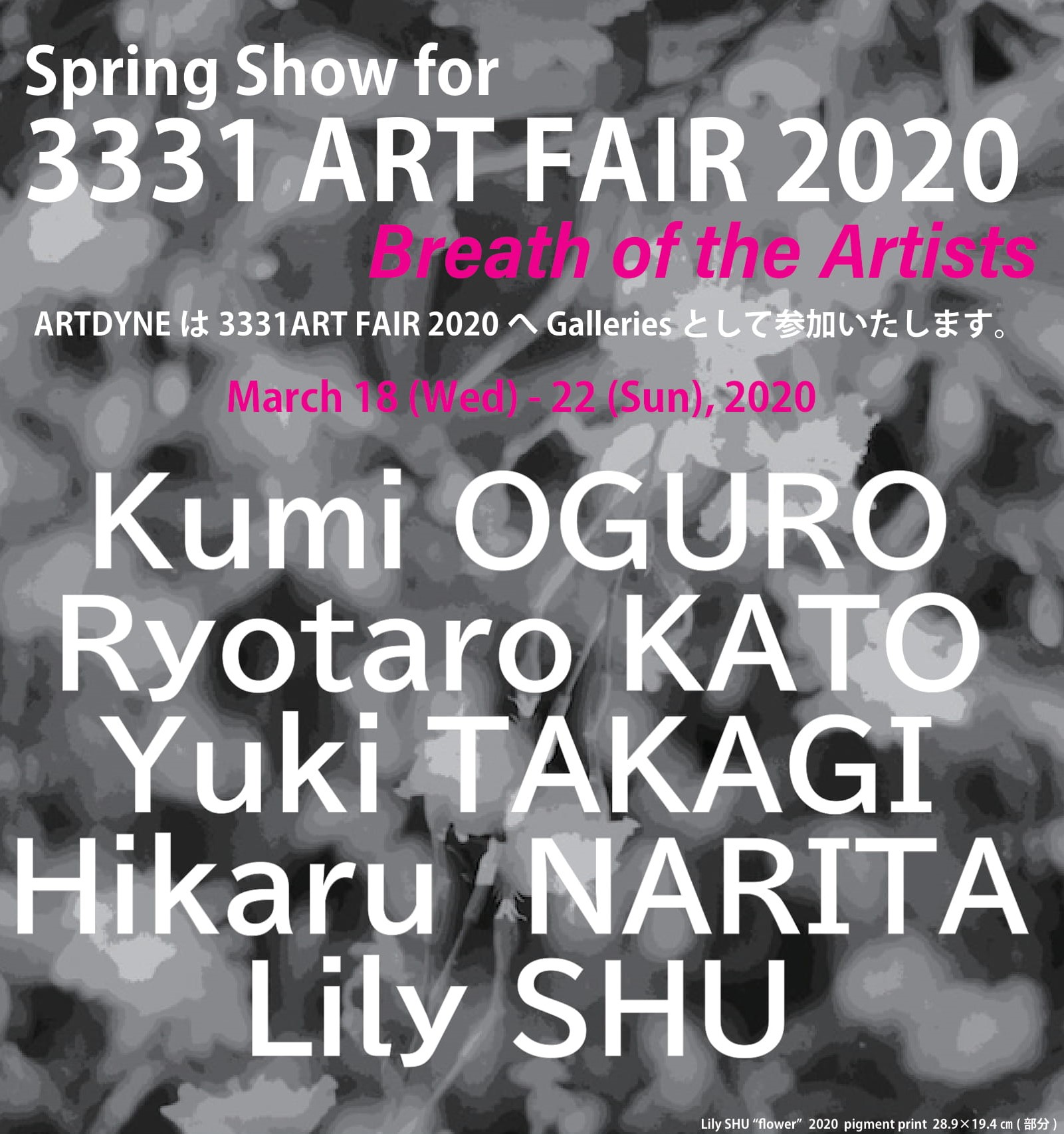 We would like to thank you for your continued support for ARTDYNE.
In light of the social situation, we have decided to change the schedule and opening hours of the "Spring Show".
We apologize for any inconvenience this may cause and appreciate your understanding.
ARTDYNE will be participating in the 3331 ART FAIR for the first time as one of the "Galleries". This year, we will be exhibiting and selling a selection of works by five artists, ranging from well-known artists active in Japan and abroad to promising young artists. The work of creating new values through the expression techniques of painting, wood carving, photography, and ceramics is also a way of seeing the society through the self. Creating a "thing" to be seen from a "thing" to see. We hope you will take this opportunity to enjoy the collective show by these five outstanding artists.
Kumi OGURO
Biography
Kumi Oguro
1999
Lives and works in Antwerp since 1999
Exhibitions:
2019
Kumi Oguro, Yuuki Takagi Duo Exhibition, ARTDYNE, Tokyo
BREAK A LEG: Performance-based & Constructed Imagery, Arkansas
2017-18
Violence Silencieuse, Pulchri Studio, Den Haag (Duo with Joris Link)
Violence Silencieuse, NL=US Art, Rotterdam (Duo with Joris Link)
2017
Several Shapes of Poison, AIP, Hoboken (Antwerp)
Lily SHU
Born in Harbin, China in 1988. After studying the theory of the sublime at the University of Essex, she completed her PhD in Art History and Philosophy at the University of Kent. D. in Art History and Philosophy from the University of Kent, and a graduate degree from Tokyo University of the Arts.
Awards
2017
Jury Prize, 7th TOKYO FRONTLINE Photo Award
33rd Higashikawa-cho International Photography Festival, Red Brick Open Portfolio Audition Grand Prix
2018
Finalist, 18th Photography "1_WALL
2019
Grand Prix at the 8th Emon Photo Award
Hikaru NARITA
1989
Born in Aomori, Japan
2013
Graduated from Musashino Art University, Department of Sculpture
2015
Graduated from Musashino Art University, Department of Sculpture, M.F.A.
Main Solo Exhibitions
2019
"huggy in piggyback" ACME FURNITURE (tokyo)
"smell" TS4312 (Tokyo)
2018
"Memory and Record" Gallery Geoje (korea)
"HOLLOW" ANAGRA (tokyo)
2017
"Ghost Town" TS4312 (tokyo)
"SPACE SHIP" island japan (tokyo)
"DIG UP" ANAGRA (tokyo)
Major group exhibitions
2019
"ARTS SAITAMA KITAMACHI FIESTA vol.5" (saitama)
2018
"Oasis" shinagawa intercity art museum (tokyo)
"NIKE ATELIAIR" (tokyo)
"ARTS SAITAMA KITAMACHI FIESTA vol.4" (saitama)
Artist Statement
The things that are born and created in this world are eventually consumed and their role comes to an end.
I dare to use familiar waste (things that have served their purpose) as materials for my work.
The process of selecting and combining things that is supposed to return to the earth someday and using them in my works is also a process of giving new life to things that completed their role.
Some of the world's stories reflect the tragic reality, and my works secretly contain the cruelty and mercilessness of the real world.
Strange creatures born from waste and appear as objects, rise as bodies that foresee the future of "things" created by humans.
(Hikaru Narita)
Yuki Takagi
Born in Fukushima, 1994.
Based in Tokyo, Japan.
Exhibitions:
2020
"Ano Hi no Sumika" MEDEL GALLERY SHU, Tokyo
2019
"Tokyo Independent," Chinretsukan Gallery, Tokyo National University of Fine Arts and Music, Tokyo
Overwritten Landscape" MEDAL GALLERY SHU, Tokyo
"Kumi Oguro and Yuki Takagi 2-person exhibition" ARTDYNE, Tokyo  
2018
"Yugaitakai ga oishii? Gallery i /Tokyo