ARTDYNE Opening Memorial Exhibition
2019.07.05 – 2019.07.15
Two-Person Exhibition by Kumi Oguro and Yuki Takagi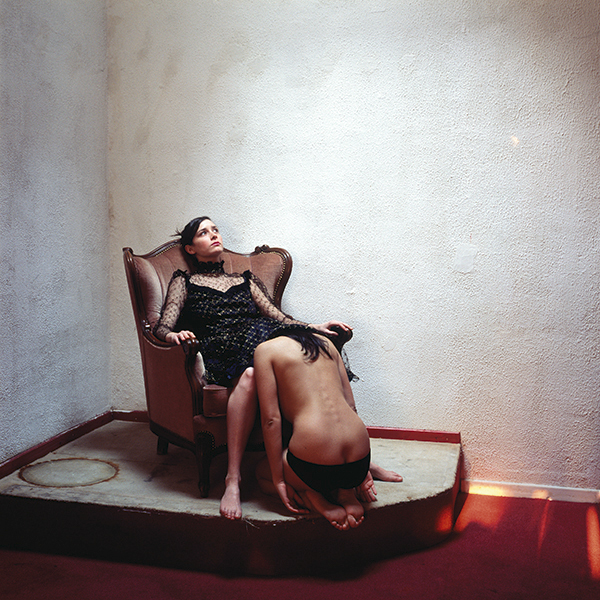 Kumi Oguro "Far" 2004 Lambda print 120.0×120.0㎝
In commemoration of the opening of the gallery, ARTDYNE is pleased to present the two-person exhibition by Kumi Oguro and Yuki Takagi.
Kumi Oguro moved to Europe in 1995 and studied photography and video in the UK and Belgium, and has been showing her work in solo and group exhibitions and art fairs in Europe and Japan while based in Antwerp. In 2008, her book "NOISE" was published by a Belgian publisher, and in 2012 she was selected for the group exhibition "OVERSEAS 2012 – Photographers who chose the world" at Ricoh Imaging Square Ginza Ring Cube. Young women appear in the works of Oguro, who attempts a painterly approach using the technique of photography. Oguro confronts the viewer with a strong sense of presence, using materials that at first glance seem to go against the approach of contemporary art. Dreadfulness and strength of women (who at times exist as a witch), an aura-like thing that can be glimpsed occasionally. The women in Oguro's works are regarded as beings that can never be consumed.
Yuki Takagi entered Tokyo University of the Arts, Department of Painting, majoring in oil painting in 2017, and has been actively participating in group exhibitions both inside and outside the university while continuing to produce her work, which drew a great deal of attention at "Tokyo Independent" held at the University of the Arts this past spring. At first glance Takagi's works may appear to be realistic paintings, however, when you stand in front of the image, a space with a mysterious depth emerges. The flatness of paintings is a theme that has been debated for a long time, and she continues to tackle this difficult issue with sincerity.
Biography
Kumi Oguro
1999
Lives and works in Antwerp since 1999
Exhibitions:
2019
Kumi Oguro, Yuuki Takagi Duo Exhibition, ARTDYNE, Tokyo
BREAK A LEG: Performance-based & Constructed Imagery, Arkansas
2017-18
Violence Silencieuse, Pulchri Studio, Den Haag (Duo with Joris Link)
Violence Silencieuse, NL=US Art, Rotterdam (Duo with Joris Link)
2017
Several Shapes of Poison, AIP, Hoboken (Antwerp)
Yuki Takagi
Born in Fukushima, 1994.
Based in Tokyo, Japan.
Exhibitions:
2020
"Ano Hi no Sumika" MEDEL GALLERY SHU, Tokyo
2019
"Tokyo Independent," Chinretsukan Gallery, Tokyo National University of Fine Arts and Music, Tokyo
Overwritten Landscape" MEDAL GALLERY SHU, Tokyo
"Kumi Oguro and Yuki Takagi 2-person exhibition" ARTDYNE, Tokyo  
2018
"Yugaitakai ga oishii? Gallery i /Tokyo