YUTA NIWA SOLO EXHIBITION 「PAINT IT BLACK」
2021.02.26 – 2021.03.21
YUTA NIWA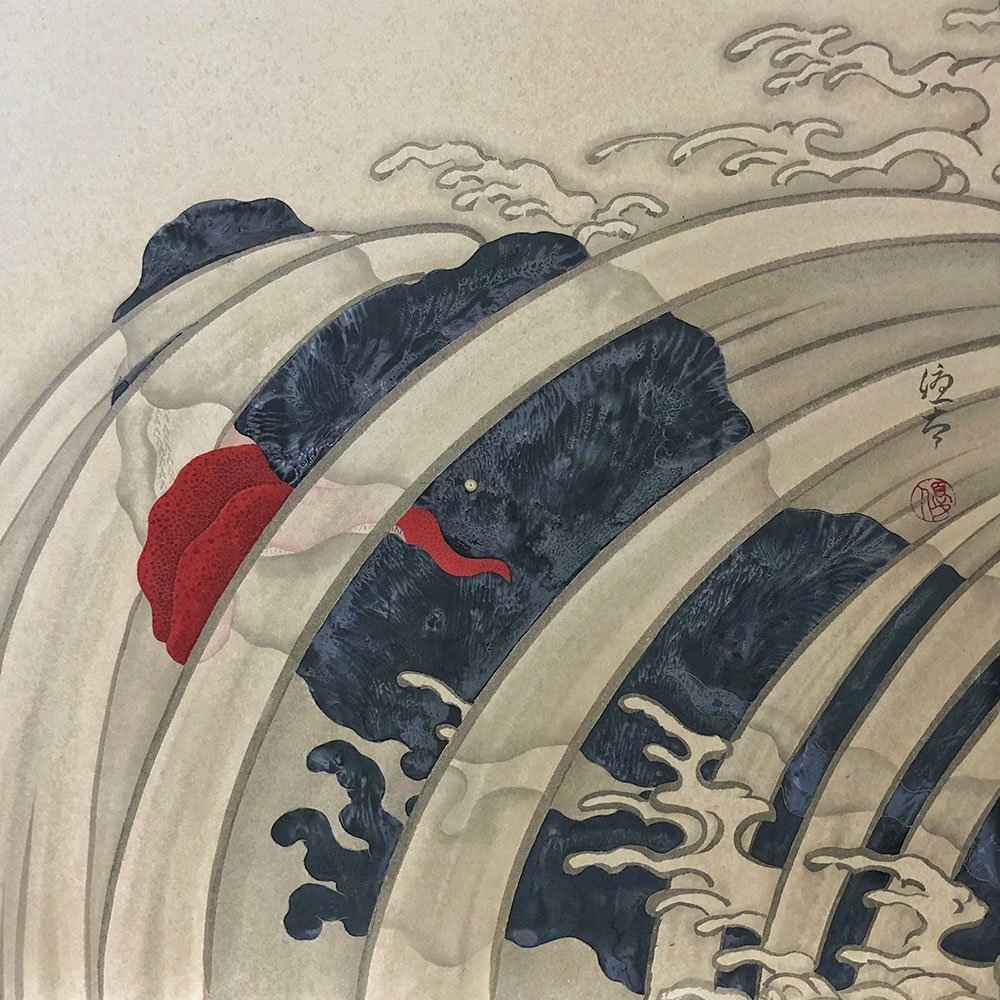 「波濤鯢図」 S5号 本鳥の子紙、墨、顔料
ARTDYNE is pleased to present "PAINT IT BLACK", a solo exhibition by Yuta Niwa from February 26 (Fri) to March 21 (Sun), 2021.
Although Niwa uses mineral pigments, Japanese paper, and sumi ink in his so-called "Japanese-style paintings," he is positioned as an artist who is connected to the lineage of legitimate Japanese art of the pre-Meiji era, which uses the technique of "mitate".
"Mitate" is an expression technique that uniquely developed in Japanese culture and art. As seen in the description in the myth of the birth of the nation by Izanagi and Izanami in the Kojiki (Records of Ancient Matters), "Descending to this island from heaven, they founded (or, imitated to found) a mighty pillar of heaven" (… ama no mihashira wo mitate), this is also a stream of consciousness that exists at the root of much of Japanese culture. Since ancient times, the expression of comparing one object to another has been naturally practiced and shared, and efforts had been made so that even those who have never seen the actual object could enjoy it through their imagination in different periods.
The Japanese giant salamander, a natural treasure found only west of Gifu in Japan, is one of the subjects that Niwa, who is originally from Kanagawa Prefecture, took up as a subject for his "mitate". He moved to Kyoto 9 years ago and saw the giant salamander for the first time. Just as painters in Edo-period used their imagination to depict creatures they had never seen before, such as kirins, tigers, elephants and whales, Niwa sees the fish as a strange form rising from an unknown world, and depicts it as an overwhelming presence with reality and unfathomable power.
The aquatic creatures that Niwa works on, such as the giant salamander fish and the giant catfish that look like enormous lump of soil, have a deep connection with Japanese culture, and have been feared and worshipped as objects of awe and at the same time, the incarnation of gods as they bring about catastrophic disasters such as earthquakes, tsunamis and floods. Although they are symbolic beings that serve as "mitate" for disasters, Niwa's paintings have an intimacy with a touch of humor. This intimacy is also reflected in the people he depicts, with humorous elements seen in the Choju-Jinbutsu-giga (caricatures of birds, animals and humans) or the Ukiyoe paintings by Kuniyoshi Utagawa, while vividly expressing the weakness of human beings who are helplessly swept away by calamities such as natural disasters and plagues, and the strength of people who never lose their warmth and humor. This is exactly the kind of society we live in today, and we can read in Niwa's work his attitude of trying to depict universality, which never changes over the course of history.
In this exhibition, in addition to the works of the giant catfish and the giant salamander fish as motifs, as a new attempt Niwa will present a large work, taken from "Tako to Ama (The Octopus and the Female Diver)", one of the images in the famous enpon (pornography) "Kinoe no Komatsu" by Katsushika Hokusai, and ceramic works. This will be Yuta Niwa's first solo exhibition with new works at a commercial gallery.
Please note that the exhibition period may change depending on the situation with the spread of the new coronavirus. Please check our gallery website and social media for the latest information.
Biography
YUTA NIWA
1993
Born in Kanagawa, Japan
2013-
Based in Kyoto, Japan.
Education
2013
Entered Japanese Painting Course, Department of Arts and Crafts, Kyoto University of Art and Design, Japan
2015
Exchange student, Haute école d'art et de design (HEAD), Geneva, Switzerland
2017
BA in Japanese Painting, Department of Fine and Applied Arts, Kyoto University of Art and Design, Japan
2019
MFA in Japanese Painting, Fine and Applied Arts Field, Graduate School, Kyoto University of Art and Design, Japan
Selected Exhibitions
2021
Solo Exhibition, Wisdom and Ingenuity of Catfish, Komyoin Temple, Kyoto, Japan
Yambaru Chishin, Yambaru Art Festival, Okinawa, Japan
2019
Spaceship Earth, KUAD ANNUAL 2019, Museum of Contemporary Art Tokyo, Japan
2019
KUMA EXHIBITION 2019, Spiral Garden, Tokyo, Japan
2018
Gashin Exhibition, Sato Art Museum, Tokyo Japan/Tokyo, '16-'18) Awards
2019 Kyoto University of Art and Design Graduation Work Exhibition, Graduate School
Grants and Awards
2019
Asahi Shimbun Award, Kyoto Art for Tomorrow
Guest Jury Prize, Art Award Tokyo Marunouchi
3rd Generation, the Kuma Foundation Creators' Scholarship
Graduate School Award, Kyoto University of Art and Design Degree Show
2018
2nd Generation, the Kuma Foundation Creators' Scholarship
Scholarship, Japan Arts Foundation
Young Artist Scholarship, Sato International Cultural Scholarship Foundation
2017
Honorable Mention, Art Award Tokyo Marunouchi
Projects & Internships
2019
Pi Animation Studio, Beijing, China
2017
DEP/ART KYOTO, Kyoto, Japan
2013
ULTRA SANDWHICH PROJECT, Kyoto, Japan