MAIKO KOBAYASHI Solo Exhibition -profession-
2022.07.15 – 2022.07.31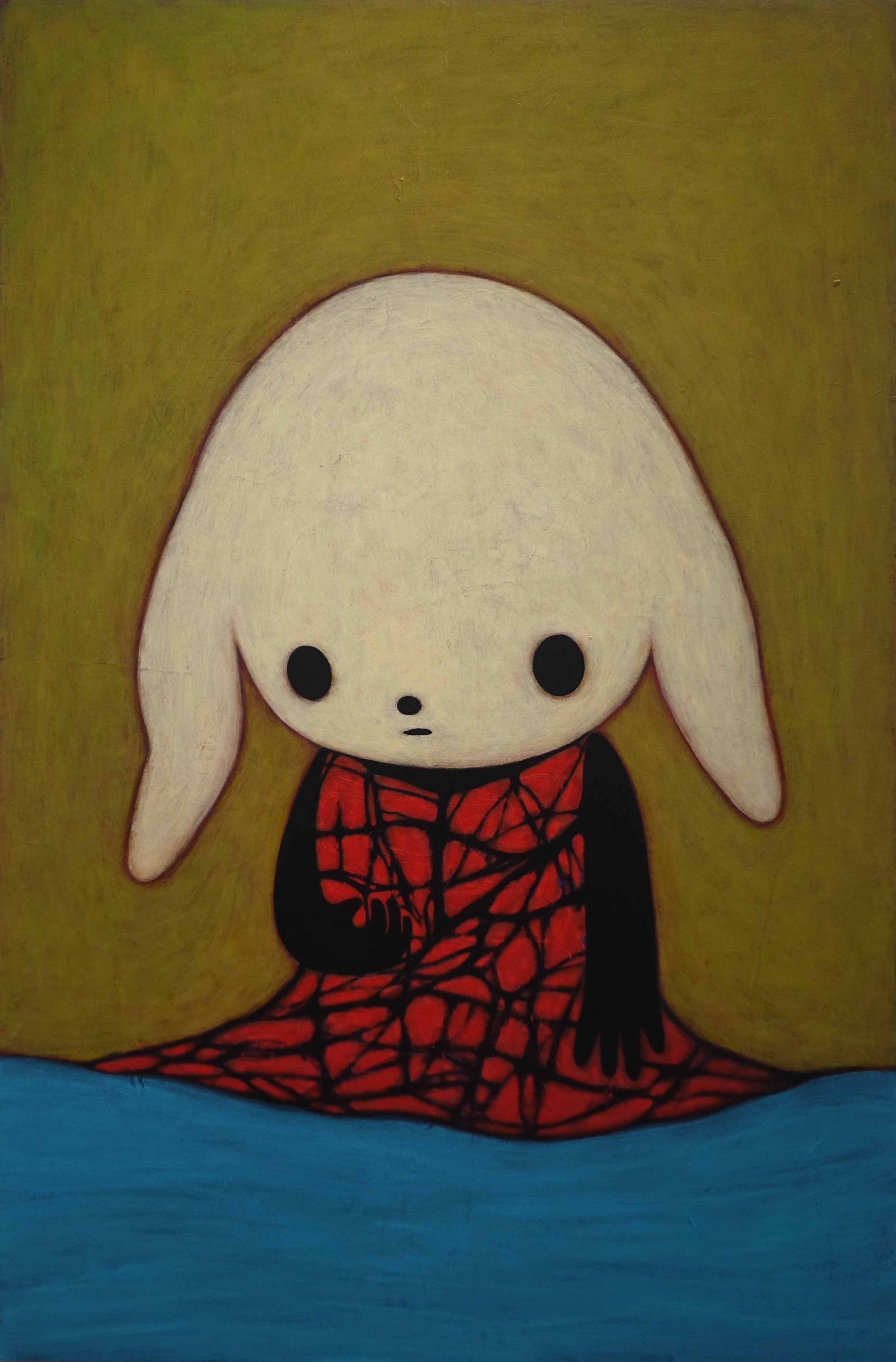 [ Foolish honesty ] 2022 80.3 X 53 cm Acrylic paint, oil pastel, Japanese paper, Canvas
ARTDYNE is pleased to present Maiko Kobayashi's solo exhibition "profession" from July 15 (Fri) to July 31 (Sun).
Maiko Kobayashi was born in Yokohama in 1977 and graduated from Musashino Art University Junior College of Art and Design, majoring in spatial design. She later studied life drawing and sketching at Setsu Mode Seminar, and in 2008 completed a master's degree in Art Practice Course at Northumbria University of Arts and Social Sciences, UK. Currently based in Tokyo, Kobayashi is actively showing her work at galleries and art fairs in Japan and abroad, including in Europe and Asia.
The creatures (not some specific animal) Kobayashi draws have a languid expression that does not match their lovely appearance. The indescribable and mysterious expressions of these creatures, which seem to be contemplating whether or not they should exist, appear to us as mirrors reflecting the deep psychology of the viewers. The black lines (or lack thereof) or seemingly simple color surfaces create a clear boundary between the background and the "creature," which makes us think of a connection with traditional Japanese painting. The complex layering of colors, combined with the expression of the creatures with blurred eyes, gives the paintings depth and invites the viewer to step between two and three dimensions.
In this solo exhibition, we will display and sell approximately 10 works consisting of paintings and drawings. We hope you will take this opportunity to view and appreciate the works and look forward to your visit.
*About the sale of works
The sale of Maiko Kobayashi's works will be on an entry system (not on a first-come, first-served basis).
The artist and the gallery will make the selection.Please visit the gallery during the exhibition and fill out the application form.
Please note that changes or cancellations cannot be made after the application has been submitted. Thank you for your understanding.
Artist Statement
They (the strange creatures I draw) are born beyond the thoughts that consist of strong emotions and countless words that arise inside of me.
They are like people I can talk to, like they are just there for me.
I am living in this world, rejoicing, struggling, and sorrowing among the changing times and people.
The more I get to know things in the world, the more often I feel helpless.
But, when I discover that human beings have that essential vitality that will never be lost under any circumstances, my heart fills with courage and hope.
The « friction » caused by this contradictory sensation is my motivation to draw.
Biography
MAIKO KOBAYASHI
Born in Yokohama, Kanagawa Lives and works in Tokyo
2008
MA with Distinction, School of Arts and Social sciencesin Art Practice, Northumbria University, UK
1998
Graduated from Musashino Art University, Junior College of Art and Design, Department of Spatial Design.
[Artist website] maikok.com
Selected Solo Exhibitions
2022
The Place of the Beginning", Omotesando Gallery, Omotesando, Tokyo, Japan
2021
Dear Nameless City and You," Gallery Palio, Machida, Tokyo, Japan
2020
"POP UP", LIGHT HOUSE Gallery TOKYO (Ryogoku, Tokyo)
"Come on", Shun Art Gallery, Shanghai, China
2018
"Relative Kawaii-We are all Kawaii-", Space Zero, Beijing 798 Art District, China
"Kawaii Philosophy -Kawaii Thinker-" Shun Art Gallery, Shanghai, China
2017
"DEAR ART" Gallery Wada, Ginza, Tokyo
2016
"Living in the City" ROPPONGI HILLS A/D GALLERY (Roppongi, Tokyo)
2015
"Capture the moment" MITSUME, Kiyosumi Shirakawa, Tokyo
2014
"The works so far…" Machida City Hall (Ginza, Tokyo)
2013
"Kokoro-Light – mind / heart : right / light" Gallery Wada, Ginza, Tokyo
2012
"Drift into Time" Omotesando Gallery, Omotesando, Tokyo
2011
"Sorrows of Life" ROPPONGI HILLS A/D GALLERY, Roppongi, Tokyo
2010
"ID" L MD Gallery, Paris, France
2009
"Vale of Tears" hpgrp GALLERY TOKYO, Omotesando, Tokyo
Selected Group Exhibitions
2022
"ART BUSAN 2022", GALLERY JOEUN Booth, BEXCO Exhibition hall1, Busan, Korea
"Palm Beach Modern+Contemporary", GR GALLERY Booth, Palm Beach County <*March 24-27> Convention Center (Florida,USA)
"TAGBOAT ART FAIR", Tokyo Port City Takeshiba <*March 11-13> (Ginza, Tokyo)
2021
"KIAF SEOUL", GALLERY JOEUN Booth, BEXCO Exhibition hall1, Seoul, Korea
"ART PARIS", Gland Palais Èphémère: Champt-de-Mars, Paris, France
"The Forties; Alluring moments 4th", GALLERY JOEUN (Seoul, Korea)
"ART BUSAN 2021", GALLERY JOEUN Booth, BEXCO Exhibition hall1 (Busan, South Korea)
2019
"Don't look at me!" (two-person exhibition of painting and sculpture) Pierre-Yves Caër Gallery (Paris, France)
"Out of line", Shun Art Gallery, Shanghai, China
2018
"Wakaba-shu -Young Artists from Japan-" Blue Roof Museum, Chengdu, Sichuan, China
2017
"ART FAIR TOKYO 2017" <Hopin' Pocketful Pocket of Hope> Tokyo International Forum, Tokyo, Japan
2016
"3331 Art Fair 2016 -Various Collectors Prizes-"<Alternative space section> 3331 Arts Chiyoda
2013
"Machida Connection <Born After 1970>" Machida City Museum of Graphic Arts
2012
"FIELD OF NOW 2012" Ginza Yokyo Hall, Tokyo
2011
"VOCA Exhibition 2011 -New Artists of the Plane-" The Ueno Royal Museum, Tokyo
2010
"Salon du dessin contemporain 2010" Carrousel du Louvre, Paris, France
Main Publications
2019
< Emo-jō > Collection aKa (drawing book series by contemporary artists) published by iKi Editions ( France)
2014
< Allgemeines Künstlerlexikon (Artists of the World: Encyclopedia of World Artists) >,BAND 81 Knecht – Kretzner, Ulrike Middendorf item writing DE GRUYTER ( Germany) Published
2011
< NOUVELLE GARDE DE L' ART CONTEMPORAIN JAPONAIS > by Sophie Cavaliero LE LEZARD NOIR (France) Published
2008
< THE POWER OF JAPANESE CONTEMPORARY ART > by Hiromi Yamaguchi published by ASCII Corporation
2007
< WARRIORS OF ART > by Hiromi Yamaguchi published by Kodansha International Ltd.
2004
< Bijutsu Techo > Gallery Review by Chieko Hirano vol.56 no.849 published by Bijutsu Shuppan-Sha
Other
2008
Art Practice Course Graduation Works purchased by Northumbria University, U.K.