Machi Sugita Solo Exhibition "First Light"
2022.05.13 – 2022.05.22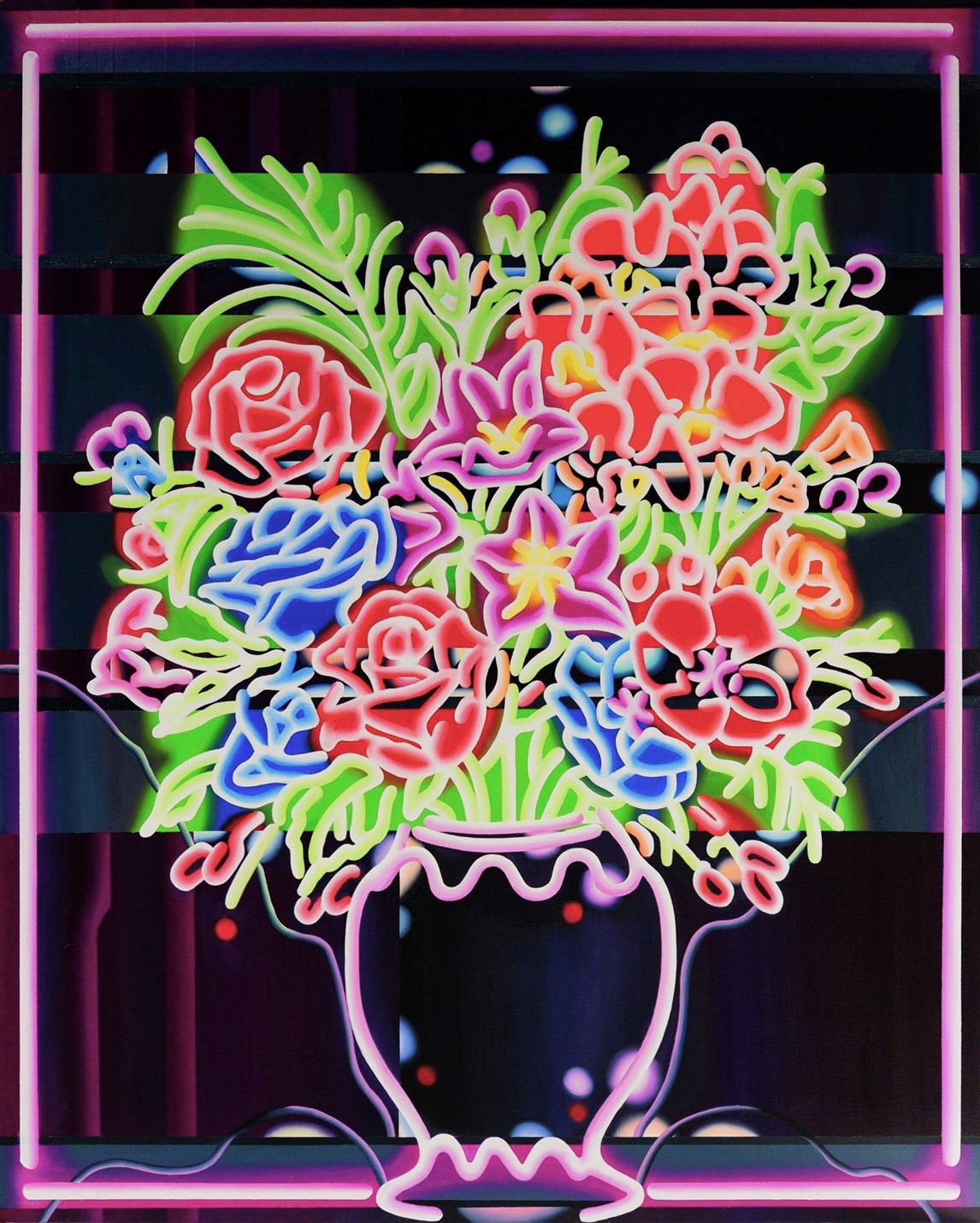 ARTDYNE is pleased to present "First Light", the first solo exhibition of Machi Sugita from May 13 (Fri) to May 22 (Sun), 2022.
Born in Saitama, Japan in 2000, Machi Sugita graduated this spring from the Women's Junior College of Art and Design with a B.F.A. In 2020, she won the graduation work award at the "Women's Junior College of Art and Design 2019 Graduation Works Exhibition," and in 2021, she won the runner-up grand prize and special award at the "7th 'Future Exhibition' – Nichido Art Gallery Art University Student Support Program. He has also participated in numerous group exhibitions, and is one of the artists whose future activities are attracting attention.
Sugita's work focuses on "light" created by human beings. Humans have lived with light and darkness since time immemorial. She depicts the light of a convenience store floating in the darkness, or a neon signboard blinking brightly in the streets of Hong Kong. For humans, light is a symbol of companionship and a place of peace. She uses neon signs (hope) to illuminate the irrationality of modern society and raise issues in various events and situations. Light and darkness, good and evil, everything in the world. Sugita attempts to express "it" on the screen, where beauty and mystery are seen together.
This exhibition, Sugita's first solo show, is titled "First Light" and will feature more than a dozen of her new works. We hope you will take this opportunity to view and appreciate his work.
Artist Statement
Like light and darkness, good and evil coexist in this world. The paintings that express these elements are the world as I see it.
Please pray that light will not disappear from the world. May your hearts be lit with light.
-Machi Sugita-
Biography
Machi Sugita
2000
Born in Saitama
2020
Graduated from Women's Junior College of Fine Arts, Fine Arts Course
2022
Graduated from Women's Junior College of Fine Arts, Research Student (Bachelor)
Solo Exhibition
2022
First Light" (ARTDYNE/Tokyo)
Selected Group Exhibitions
2022
Artificial Phenomenon" (AMEX Centurion Lounge, Regent Hotel/Taipei)
nine colors XVI" (Seibu Shibuya/Tokyo)
2021
JOSHIBISION" (Tokyo Metropolitan Art Museum/Tokyo)
nine colors XV" (Seibu Shibuya/Tokyo)
New Age" (UP SIDE DOWN Gallery/Tokyo)
nine colors XV" (Hankyu Umeda/Osaka)
2020
The 7th "Future Exhibition" – Nichido Gallery Art University Student Support Program – (Nichido Gallery/Tokyo)
Women Artists Collection "I" (Mori Art Museum/Chiba)
Shibuya Style vol.14″ (Seibu Shibuya/Tokyo)
Awards
2021
The 7th "Future Exhibition" – Nichido Gallery Art University Student Support Program – Second Grand Prix and Special Prize
2020 "Women's Junior College of Art and Design 2019 Graduation Works Exhibition" Awarded the Graduation Works Prize