Hikaru Narita / Erika Naka  A Two-Person Exhibition "Nothing seek, Noting find
2019.12.14 – 2020.01.08
Hikaru Narita
Erika Naka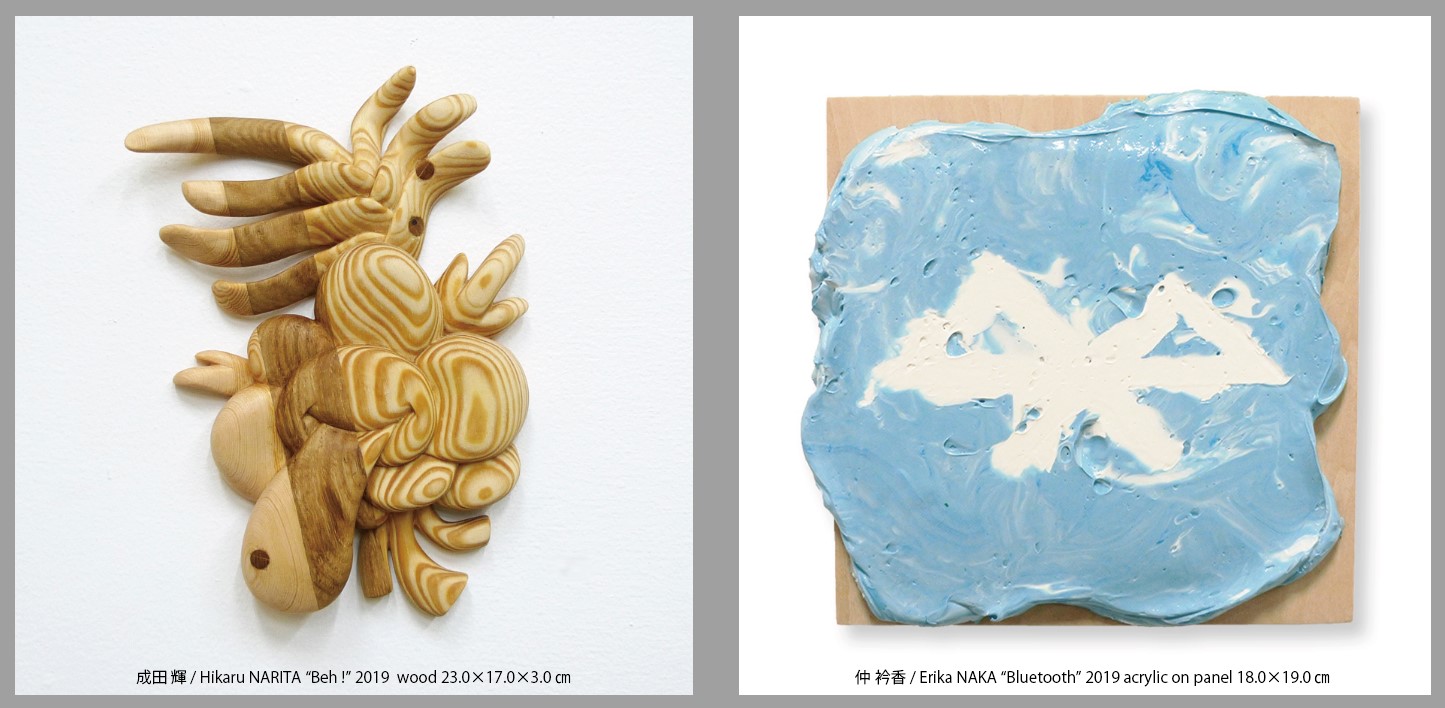 Opening Party:17:00 – 19:00, Saturday, December 14, 2019
Opening hours: 12:00 – 19:00 (Open on Thursdays, Fridays, Saturdays, and Sundays during
the exhibition period (reservations required for Mondays, Tuesdays, and Wednesdays))
Venue: ARTDYNE Room 211, 3331 Arts Chiyoda, 6-11-14 Sotokanda, Chiyoda-ku, Tokyo
Map: https://bit.ly/33NV3jH
Biography
Hikaru NARITA
1989
Born in Aomori, Japan
2013
Graduated from Musashino Art University, Department of Sculpture
2015
Graduated from Musashino Art University, Department of Sculpture, M.F.A.
Main Solo Exhibitions
2019
"huggy in piggyback" ACME FURNITURE (tokyo)
"smell" TS4312 (Tokyo)
2018
"Memory and Record" Gallery Geoje (korea)
"HOLLOW" ANAGRA (tokyo)
2017
"Ghost Town" TS4312 (tokyo)
"SPACE SHIP" island japan (tokyo)
"DIG UP" ANAGRA (tokyo)
Major group exhibitions
2019
"ARTS SAITAMA KITAMACHI FIESTA vol.5" (saitama)
2018
"Oasis" shinagawa intercity art museum (tokyo)
"NIKE ATELIAIR" (tokyo)
"ARTS SAITAMA KITAMACHI FIESTA vol.4" (saitama)
Artist Statement
The things that are born and created in this world are eventually consumed and their role comes to an end.
I dare to use familiar waste (things that have served their purpose) as materials for my work.
The process of selecting and combining things that is supposed to return to the earth someday and using them in my works is also a process of giving new life to things that completed their role.
Some of the world's stories reflect the tragic reality, and my works secretly contain the cruelty and mercilessness of the real world.
Strange creatures born from waste and appear as objects, rise as bodies that foresee the future of "things" created by humans.
(Hikaru Narita)
Erika Naka
1994
Born in Komoro City, Nagano Prefecture
2019
Graduated from Tokyo Zokei University, majoring in painting
Exhibitions
2019
Group Exhibition "Change" / Alt Medium / Tokyo, Japan
ART FAIR TOKYO 2019 / SH ART PROJECT / Tokyo, Japan
Solo Exhibition "Melt" / Test Flight / Tokyo, Japan
Personal Exhibition "Present Place"/SH ART PROJECT/Tokyo
2018
Group Exhibition "CHU CHU SHOW 2018″/Chuwa Gallery/Tokyo
2016
Group Exhibition "CUBE"/TURNER GALLERY/Tokyo
Awards
2018
CAF Prize, Masami Shiraishi Prize
2017
Wonder Seed Honorable Mention
Erika Naka creates an image with unique colors and gloss by applying thick layers of paint on a support.
She mainly uses as her motifs icons that everyone knows, such as marks and symbols used in stores and public spaces.
The "thing = work of art" that has become an object by a thick layer of paint evokes a sense of discrepancy and discomfort between the viewer's memory and the actual objects.
In this way, the artist reexamines the meaning of "seeing".