Masato Mizutani SOLO EXHIBITION 「Aftereffect」
2020.11.21 – 2020.12.13
Masato Mizutani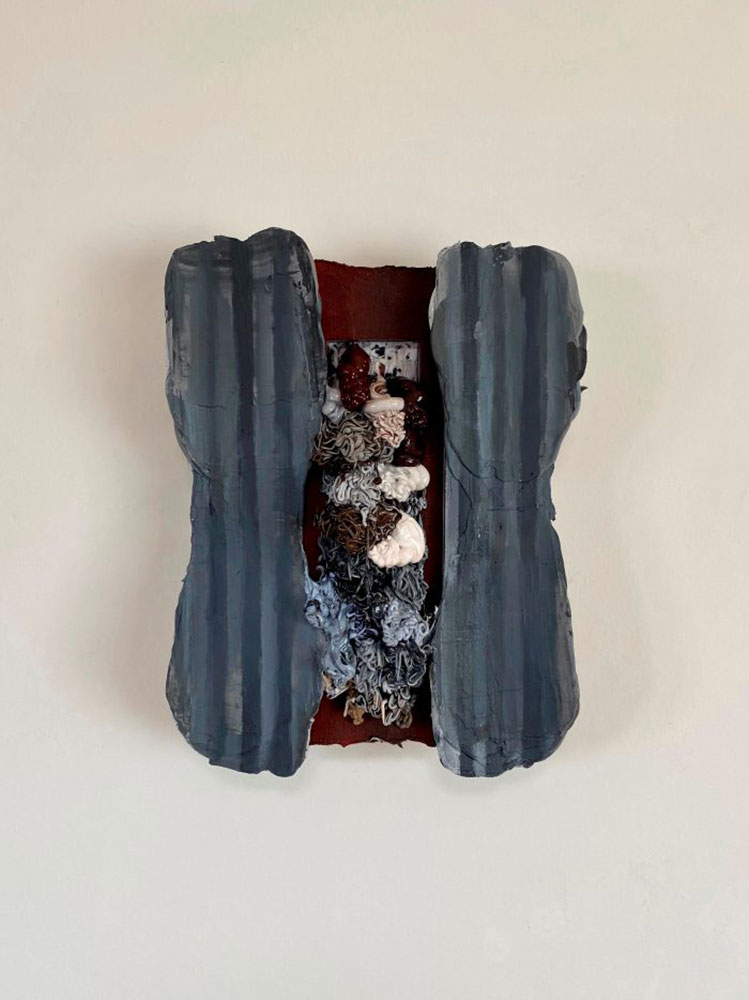 Gray Rain (Study after Velázquez/Francis Bacon) 2020, 23.0 x 16.0cm acrylic paint on canvas wooden panel, paper, inkjet
ARTDYNE is pleased to present "Aftereffect", the solo exhibition by Masato Mizutani.
Born in Osaka in 1990, Mizutani studied at the Kyoto University of Art and Design, Department of Arts and Crafts, Western-style painting course, and then completed the oil painting course at Kyoto City University of Arts, Department of Fine Arts.
Mizutani is also known as an artist who works with a unique technique. He creates a space in the center of a thickly painted layer on a panel and pastes a copy of a work by a famous artist from the past on the back. He then makes numerous holes in the panel and pours paint of the corresponding color through each hole. From the surface of the work, something like organic substances or fascinating internal organs overflows, undulating, which then accidentally adheres to the surface. Mizutani's works, which are "born" beyond the artist's intentions, carry with them the fundamental questions of what is the essence of painting and how creation of artworks should be, and combine the seemingly incompatible elements of sensuality and sublimity.
In this exhibition, in addition to the techniques he has used so far, a new series of works will be shown. We hope you will take this opportunity to enjoy Mizutani's creations.
Please note that admission may be limited depending on the situation. Thank you for your understanding.
Biography
Masato Mizutani
1990
Born in Osaka
2013
Graduated from Kyoto University of Art and Design, Department of Arts and Crafts, Western-style Painting Course, General Formative Arts Seminar
2016
Completed the Oil Painting Course, Graduate School of Fine Arts, Kyoto City University of Arts
Solo Exhibitions
2019
"12.3 billion souls" HARMAS GALLERY
2018
"Sex and the Bacon" FINCH ARTS
2018
"IZANAI" TS4312
2016
"Masato Mizutani Exhibition" TS4312
In addition, he has participated in many group exhibitions and art fairs in Japan and abroad.
Awards
2016
Tatehata Akira Prize, a.a.t.m. Art Award Tokyo Marunouchi 2016, Marunouchi Building, Tokyo
2015
Selected, Wonder Seed 2015, Tokyo Wonder Site Shibuya, Tokyo